I've been debating what kind of wreath I wanted to do on our front door for a few weeks now, and I've loved all the book/pages/paper wreaths that lots of people have done, but mostly those are only good for a living room or other indoor area due to weather probs encountered on a front-door wreath.
Enter the plastic bag wreath! I was inspired by Stephanie Lynn's Earth Day Plastic Bag Wreath:
Under the Table and Dreaming -

By Stephanie Lynn

I had to tweak it slightly because I encountered a few problems. First, all my plastic bags are brown. Blah. Second, there are only a few craft stores on the island, and none of them is cheap OR large. Oh, what I would give for a Hobby Lobby, Joann's, Michael's, or Hancock Fabrics! So I had to think of another alternative on the wreath...
I've seen a few wreaths made out of hangers lately, and I've been particularly loving this one:
SOOO pretty! I may attempt a similar one for indoors after the holiday decor is done...
To solve the bag problem, I decided to try Ziploc bags. It's what I had on-hand, so I thought I'd give it a shot.
Here's what you'll need:
100 bags (yes, I'm a counter, I used exactly 100 bags)
Wire hanger
Scissors
Ribbon or fabric to hang it
Embellishments :)
I just wrapped each bag around the short way (so the ends were smaller and fluffier), and I started a pattern I thought made the fluffiest (at least what worked for me...all other ways seemed to be too much "knot" and not enough "fluff") was to tie them so one end was much longer than the other. Like this:

Twist them slightly, so they're not directly on top of each other, and then every third one I tied so both ends were the same length. Like this:

That seemed to give it more horizontal fullness (if that makes any sense at all).
Make sure to push them really tight. At first I thought it was looking too sparce, and I was worried I was doing something wrong. Here's how it looked after the first 20:
Then I used
THIS wonderful tutorial
to make my own Christmas gift bow out of the left over glitter scrapbook paper I've used in a few of my other Blue and Silver Christmas crafts.
I LOVED making these. Watch for more of them. Possibly even tonight if I don't get too distracted watching "Elf".

I don't have any nice, wide ribbon, so I took some white fabric and folded the sides in.

Aloha and Mele Kalikimaka,
Charlie
Linking to:
Polly Want a Crafter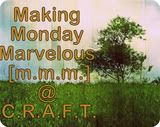 The Girl Creative